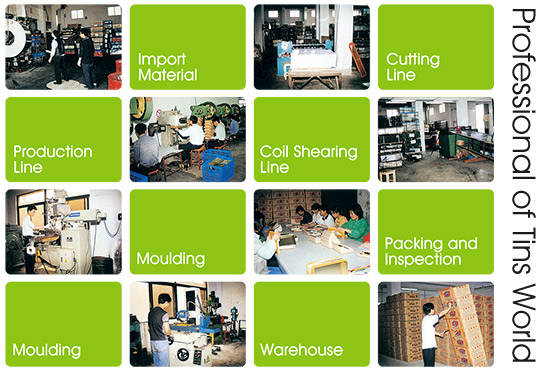 ShanTou HangCheong Caning Factory CO.,LTD.
ShanTou HangCheong Caning Factory CO.,LTD. is a Hong Kong invested enterprise and has made metal decorated packing products and tin boxes since 1994. Usually,we use electrolytic tinplate and tin-free steel from South Korea,Japan or United Kingdom, which are the same materials used for many canned foods.Our mission was emerged from demands of professional and various services of the tins industry.When customers make their tins project with us, we support with our knowledge and technical know-how.Good-quality design and low price is our key feature.
Our factory makes an estimated 5millions pieces of tins and trays monthly at its 20,000 square-meter, 400 workers factory in Shantou city,Guangdong province, Mainland China. Also, we do the job of tinplate printing,tooling making and tin jar lids making. And the present main markets are mainland China,Middle East,North America, Europe,Australia, and Japan. We have bought a new double colors printing machine PRIMEX-F452 from Japan in 2004. So it made our tinplate printing quality goes away in the world front rank.